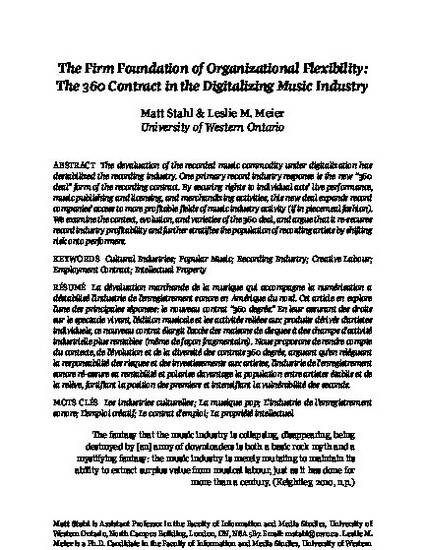 Article
The Firm Foundation of Organizational Flexibility: The 360 Contract in the Digitalizing Music Industry
Canadian Journal of Communication
Publication Date
1-1-2012
URL with Digital Object Identifier
https://doi.org/10.22230/cjc.2012v37n3a2544
Abstract
The devaluation of the recorded music commodity under digitalization has destabilized the recording industry. One primary record industry response is the new "360 deal" form of the recording contract. By securing rights to individual acts' live performance, music publishing and licensing, and merchandizing activities, this new deal expands record companies' access to more profitable fields of music industry activity (if in piecemeal fashion). We examine the context, evolution, and varieties of the 360 deal, and argue that it re-secures record industry profitability and further stratifies the population of recording artists by shifting risk onto performers.
Creative Commons License
Creative Commons Attribution 4.0
Citation Information
Matt Stahl and Leslie Meier. "The Firm Foundation of Organizational Flexibility: The 360 Contract in the Digitalizing Music Industry"
Canadian Journal of Communication
Vol. 37 Iss. 3 (2012) p. 441 - 458
Available at: http://works.bepress.com/MattStahl/1/