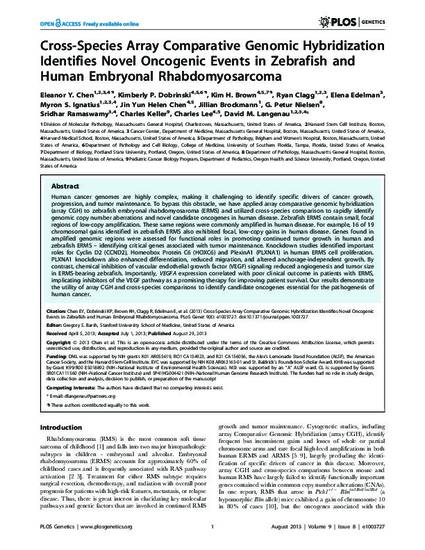 Article
Cross-Species Array Comparative Genomic Hybridization Identifies Novel Oncogenic Events in Zebrafish and Human Embryonal Rhabdomyosarcoma
PLOS Genetics
Sponsor
DML was supported by NIH grants K01 AR055619, RO1 CA154923, and R21 CA156056, the Alex's Lemonade Stand Foundation (ALSF), the American Cancer Society, and the Harvard Stem Cell Institute. EYC was supported by NIH K08 AR063165-01 and St. Baldrick's Foundation Scholar Award. KHB was supported by Grant K99/R00 ES018892 (NIH–National Institute of Environmental Health Sciences). MSI was supported by an ''A'' ALSF ward. CL is supported by Grants 5R01CA111560 (NIH–National Cancer Institute) and 5P41HG004421 (NIH–National Human Genome Research Institute).
Publication Date
8-1-2013
Subjects
Zebra danio -- Genetics,
Zabra danio -- Mitochondrial DNA -- Analysis,
Zebra danio -- Development
Abstract
Human cancer genomes are highly complex, making it challenging to identify specific drivers of cancer growth, progression, and tumor maintenance. To bypass this obstacle, we have applied array comparative genomic hybridization (array CGH) to zebrafish embryonal rhabdomyosaroma (ERMS) and utilized cross-species comparison to rapidly identify genomic copy number aberrations and novel candidate oncogenes in human disease. Zebrafish ERMS contain small, focal regions of low-copy amplification. These same regions were commonly amplified in human disease. For example, 16 of 19 chromosomal gains identified in zebrafish ERMS also exhibited focal, low-copy gains in human disease. Genes found in amplified genomic regions were assessed for functional roles in promoting continued tumor growth in human and zebrafish ERMS – identifying critical genes associated with tumor maintenance. Knockdown studies identified important roles for Cyclin D2 (CCND2), Homeobox Protein C6 (HOXC6) and PlexinA1 (PLXNA1) in human ERMS cell proliferation. PLXNA1 knockdown also enhanced differentiation, reduced migration, and altered anchorage-independent growth. By contrast, chemical inhibition of vascular endothelial growth factor (VEGF) signaling reduced angiogenesis and tumor size in ERMS-bearing zebrafish. Importantly, VEGFA expression correlated with poor clinical outcome in patients with ERMS, implicating inhibitors of the VEGF pathway as a promising therapy for improving patient survival. Our results demonstrate the utility of array CGH and cross-species comparisons to identify candidate oncogenes essential for the pathogenesis of human cancer.
DOI
10.1371/journal.pgen.1003727
Persistent Identifier
http://archives.pdx.edu/ds/psu/18531
Citation Information
Chen EY, Dobrinski KP, Brown KH, Clagg R, Edelman E, et al. (2013) Cross-Species Array Comparative Genomic Hybridization Identifies Novel Oncogenic Events in Zebrafish and Human Embryonal Rhabdomyosarcoma. PLoS Genet 9(8): e1003727.