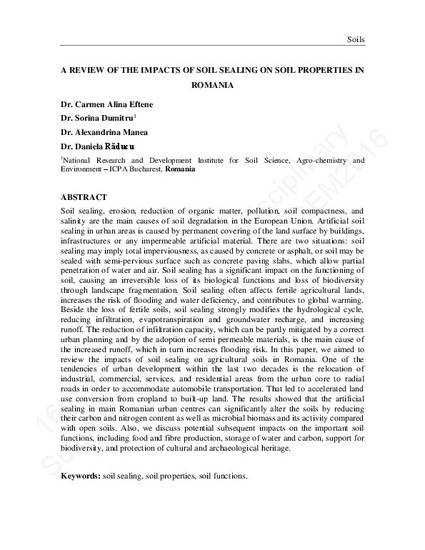 Contribution to Book
A REVIEW OF THE IMPACTS OF SOIL SEALING ON SOIL PROPERTIES IN ROMANIA
16th INTERNATIONAL MULTIDISCIPLINARY GEOCONFERENCE SGEM 2016 (2016)
Abstract
Soil sealing, erosion, reduction of organic matter, pollution, soil compactness, and salinity are the main causes of soil degradation in the European Union. Artificial soil sealing in urban areas is caused by permanent covering of the land surface by buildings, infrastructures or any impermeable artificial material. There are two situations: soil sealing may imply total imperviousness, as caused by concrete or asphalt, or soil may be sealed with semi-pervious surface such as concrete paving slabs, which allow partial penetration of water and air. Soil sealing has a significant impact on the functioning of soil, causing an irreversible loss of its biological functions and loss of biodiversity through landscape fragmentation. Soil sealing often affects fertile agricultural lands, increases the risk of flooding and water deficiency, and contributes to global warming. Beside the loss of fertile soils, soil sealing strongly modifies the hydrological cycle, reducing infiltration, evapotranspiration and groundwater recharge, and increasing runoff. The reduction of infiltration capacity, which can be partly mitigated by a correct urban planning and by the adoption of semi permeable materials, is the main cause of the increased runoff, which in turn increases flooding risk. In this paper, we aimed to review the impacts of soil sealing on agricultural soils in Romania. One of the tendencies of urban development within the last two decades is the relocation of industrial, commercial, services, and residential areas from the urban core to radial roads in order to accommodate automobile transportation. That led to accelerated land use conversion from cropland to built-up land. The results showed that the artificial sealing in main Romanian urban centres can significantly alter the soils by reducing their carbon and nitrogen content as well as microbial biomass and its activity compared with open soils. Also, we discuss potential subsequent impacts on the important soil functions, including food and fibre production, storage of water and carbon, support for biodiversity, and protection of cultural and archaeological heritage.
Keywords
soil properties,
soil functions,
Romania
Publication Date
June, 2016
Citation Information
Alina Carmen EFTENE, Sorina Dumitru, Alexandrina Manea and Daniela Raducu. "A REVIEW OF THE IMPACTS OF SOIL SEALING ON SOIL PROPERTIES IN ROMANIA" Albena, Bulgaria
16th INTERNATIONAL MULTIDISCIPLINARY GEOCONFERENCE SGEM 2016
Vol. 3(2) (2016) p. 9 - 13
Available at: http://works.bepress.com/AlinaCarmen-Eftene/2/
Creative Commons License
This work is licensed under a Creative Commons CC_BY-NC International License.